Due to the recent increase in COVID activity in skilled nursing facilities as well as outbreaks in assisted living communities, here are some resources that may be of interest to your members and ask that you share this material as widely as possible.
Below, you will find a fact sheet and social media graphics that reiterates important infection prevention strategies, including promoting COVID-19 vaccinations and continuing to wear a mask. This factsheet can be emailed to staff or used as a poster to reinforce the urgent actions CDC is asking of all healthcare providers and staff in long-term care facilities.
Additionally, there are also two slide decks that were reviewed on our partner call last week. The first slide deck summarizes the urgent action CDC recommends for protecting residents and staff from COVID infections as well as information about how CDC is working to ensure vaccine access for long-term care facilities. The second slide deck provides additional information about monoclonal antibody treatment.
LTC Infection Control Delta Factsheet
2021-08-11 LTC MAb update Slide Show
NH partner summary_21-08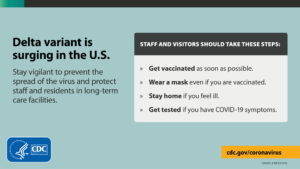 Finally, below are links to existing web resources. Please share these as well.