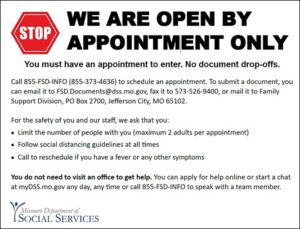 Remember, you do not need to visit an office in person to get help through the Family Support Division. You can still:
Apply online any time at myDSS.mo.gov.
Visit myDSS.mo.gov to start a chat with us any day, any time & get answers to your basic questions.
Call 855-FSD-INFO to speak with a team member.
Do you need help in person? A few of our Family Support Division Resource Centers are now open and available to help by appointment only. To find an open office near you, visit https://buff.ly/2ArYLWw and search your address or zip code.
Before you visit, you will need to call 855-FSD-INFO and follow the prompts to schedule an appointment. For your safety and the safety of our team, you will only be allowed in the building at your scheduled appointment time.