Transmission-based precautions are used for residents who are known to be, or suspected of being infected or colonized with infectious agents, including pathogens that require additional control measures to prevent transmission.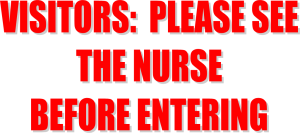 Pertinent signage (i.e., isolation precautions) and verbal reporting between staff can enhance compliance with transmission-based precautions to help minimize the transmission of infections within the facility. 
The following clarifies concerns or questions your home may have regarding dignity and privacy issues: 
Signage may be posted if:
No specific diagnosis is disclosed with regard to the resident(s).
Failure to disclose the required precautions in a timely and effective manner could cause other resident(s) to contract a preventable healthcare associated infection.
Disclosure of the information regarding transmission is required in order to ensure the safe and timely management of the residents. 
Please also review:  F441 Excerpts Infection Control