The purpose of this communication is to remind Nursing Home Providers to ensure you maintain accurate contact information and login credentials in the QIES system even though all Minimum Data Set (MDS) information is now being submitted via the Internet Quality Improvement and Evaluation System (iQIES) system. You will continue to receive important information regarding any findings of noncompliance with the requirement to report COVID-19 data to the Centers for Disease Control and Prevention (CDC) through the National Healthcare Safety Network (NHSN) in your CASPER Shared Folder. This means that facilities will need to continue to maintain two sets of login credentials, one set to access the CASPER Reporting application [CMS Network (CMSNet) and QIES Login credentials] and the HARP login credentials to continue submission of MDS records and accessing reports in iQIES.
Below is the link for the CASPER login. Please be sure that you are successfully logged into the CMS Network (CMSNet) prior to trying to access the CASPER link below.
https://web.qiesnet.org/qiesmds/mds_home.html
See below to find your CASPER Shared Folder:
Image 1. Welcome to CASPER

Image 2. CASPER folders.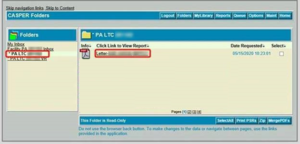 iQIES Service Center
For questions regarding your CASPER Shared Folder, please contact the QIES/iQIES Service Center by phone at (800) 339-9313 or send an email.